Jacqueline Brey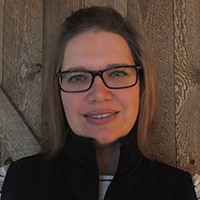 A native Wisconsinite; Jackie graduated from the University of Wisconsin Eau Claire with her Bachelor of Science degree in Kinesiology with an emphasis in Rehabilitation. Jackie's experience ranges from clinic to collegiate, high school and youth athletes. Her passion for athletic training extended off the field into the community instructing in First Aid and CPR.
In 2004, Jackie followed her dream of living in the mountains by relocating to the Western Slope. She started working for Valley View Hospital outreaching to a local 3A high school as their head athletic trainer while suppling coverage to Colorado Mountain College's Men's and Women's soccer teams. She took her experiences working with Neuropsychology provider, Dr. Michael McCrea, and developed a comprehensive concussion program; including recommendations for baseline testing and return to play protocol to include coach, student-athlete and parent education. In her off time she worked at the Snowmass Clinic, triaging acute ski and snowboarding injuries.
Come 2007, Jackie was recruited by her team doctors at Aspen Orthopaedic Associates to work full time in their private practice. She worked as a direct liaison between the orthopaedic surgeon and their patients. Jackie took her knowledge from her years as a collegiate and high school athletic trainer to implement a profitable custom knee brace program. Through her eight years with Aspen Orthopaedics, she worked her way into management, ultimately accepting a promotion to Office Manager. In this new position she managed six orthopaedic surgeons to include their ATC's, RN's, MA's and front office personal.
In 2015 Jackie followed her husband to the Front Range were she was employed as the first clinical athletic trainer for UCHealth's Lone Tree Medical Center. She brought with her almost 20 years of experience in the sports medicine industry to her current position as athletic trainer servicing the physicians of: Dr. Adam Seidl, Dr. Nader Shourbaji, Dr. David Ou-Yang, Dr. Michelle Wolcott, Dr. Craig Hogan and Dr. Vikas Patel.
Jackie, like many transplants to Colorado, enjoys Colorado's playground. Everything from hunting, fishing, camping and hiking to traveling with her husband. She and her husband are proud parents to a fur baby; a Golden Retriever named Oakley.